Daintree Residence
11a Toh Tuck Dr, Singapore 596157
| | |
| --- | --- |
| TOP | 2H 2021 |
| Tenure | 30 |
| Total Units | 327 |
| Site Area | 201,510 sq feet |
| Property Type | Apartment / Condo |
| Developer | S P Setia International(S) Pte Ltd |
| Development | Proposed condominium housing development comprising of 12 blocks of 5 - storey apartments with landscape deck, basement car park and communal facilities at Toh Tuck Road |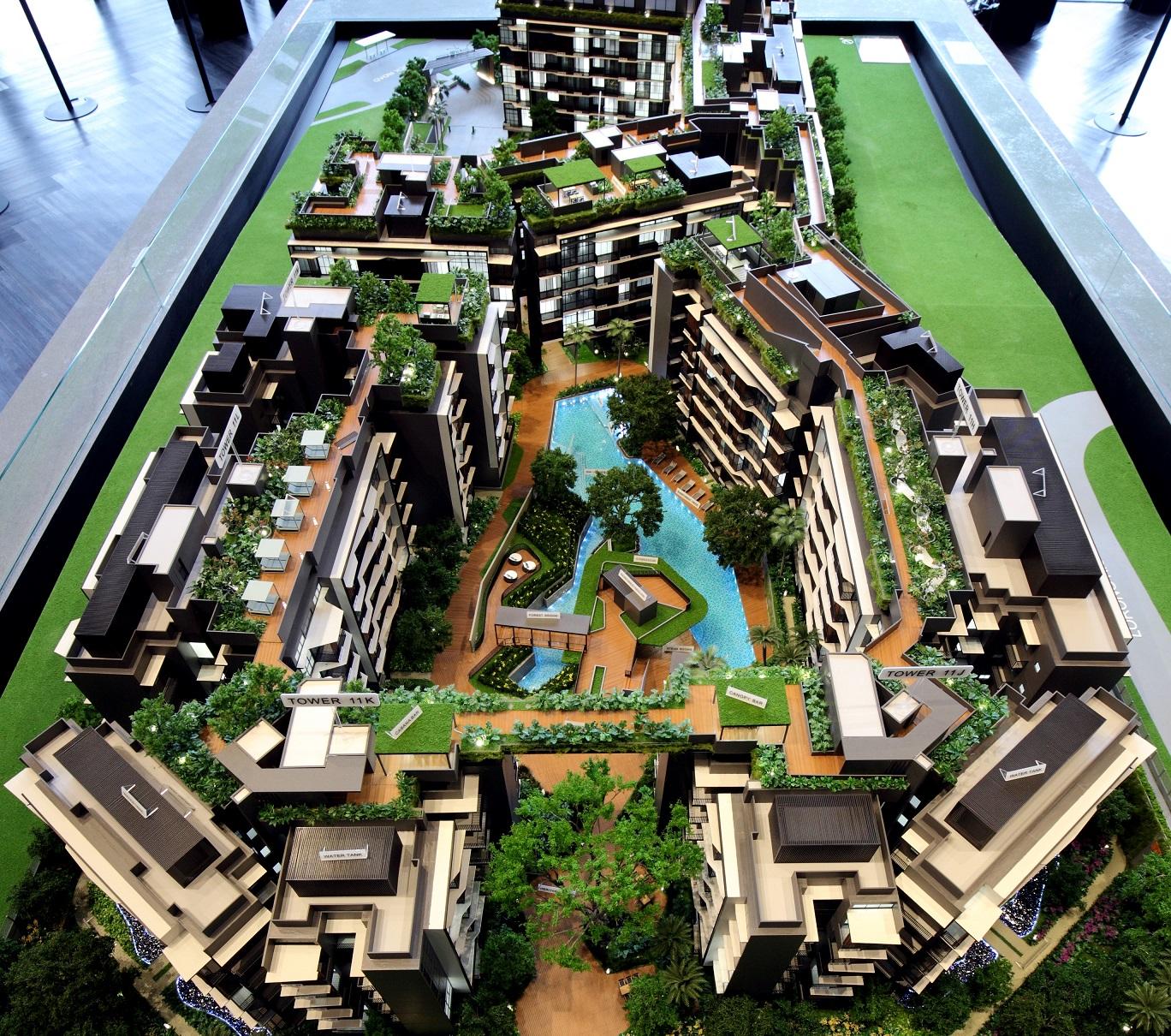 Daintree Residence is an upcoming condominium situated at Toh Tuck Road in district 21. It is located outside the central region of Singapore where shopping centers, major transport routes, and other convenient facilities exist. The area is home to premium schools, strong health centers, popular entertainment hubs, vibrant markets, and lush parks. Residents also have access to a wide selection of recreation centers accompanied by a serene environment that accommodates all cultures. On top of having a high rental demand, the condominium thrives alongside various sophisticated developments established by the government and private investors. Most Condominiums within walking distance have created a competitive platform for the real industry thus making Daintree Residence and the neighboring projects appealing to investors. The talks of the Toh Tuck road development site began in 2016 when the government launched various land sales. About 24 prestige developers fought neck-to-neck to obtain the location but only the Malaysian developer, SP Setia won the bid with $265 million for the 99-year tenure.
According to the developers, Daintree Residence harbors 327 units sitting on 4.626 acres of land. The 5-storey building will have apartments distributed into one to four bedrooms where each has the latest gadgets and a world-class furnishing. The detailed floor management plan assigns a spacious living room alongside the dining area and a storage space. The units have well-lit bedrooms with ensuite baths, large closets, customized drawers, and impeccable décor. Apart from having modern appliances, the property's kitchen is embellished with beautiful cabinets, countertops, drawers, and classical setting available at 5-star hotels. Residents will also enjoy Daintree's comprehensive facilities that feature BBQ pits, entertainment rooms, a large swimming pool with an extension of kids' pool, a fully-equipped gym, and a beauty parlor. Security within the property is enhanced by a guard house, CCTV cameras, and a fast response system connected to nearby hospitals as well as law enforcement. The developers have included beautiful landscapes decorated with lush greenery and various artistical skills. Occupants will also appreciate the flexible electrical and plumbing systems fitted in the building. The entire framework matches all appliances including the exterior where security lights will be while the sprinklers and fountains keep the courts appealing. Besides, the developers have considered your comfort and needs before constructing the project.
High Return Potential
Daintree Residence is the best future investment you can trust due to its strategic location and the rising number of condominium developments within the region. The developers have confidence that the property has a potential for high returns since the government became heavily invested in renovating some recreation facilities, building more public amenities, creating lush parks, and designing cycle-friendly paths. Additionally, the land had a stiff bidding competition that revealed the value of the development and its potential for increased profits in the coming years. Other than enjoying a serene environment, apartment owners will have the opportunity to invest in a vibrant district with an increasing rental demand as well as a thriving community with vast transport routes.
Home Designed To Perfection
For a house to sell, it must possess an attractive design reinforced with rigid materials and appealing décor both on the inside and the outside. Apart from having excellent detailing, Daintree Residence has spacious, well-lit, and airy rooms enhanced with beautiful lighting systems, large windows, and the modern ventilation framework to improve its exotic feeling. The developers have used quality fixtures and the latest appliances to increase the unit's value and provide a comfortable ambiance to occupants. The building's features come with exceptional views and an impressive outlook of the city's finest spots. Additionally, the property's facilities accord residents various benefits such as hosting parties, using a state of art gym for free, ample security, swimming at your leisure, having a playground for your kids, enjoying vast landscapes and living in a quiet and serene environment. Thanks, to SP Setia's extensive experience with residential developments, Daintree condominium has the most beautiful creations designed with customer's mindset. The floors are perfectly aligned, closets, doors, drawers, window frames, and cabinets are carefully crafted while the countertops receive the lovely furnishings. On top of that, the walls have a glowing look enhanced by a classic décor and an inviting atmosphere.
About the developer
SP Setia Group is the leading local and international developer in Malaysia with an established corporate portfolio and an impeccable record at the real estate industry as well as infrastructure. The award-winning organization prides itself for sophisticated projects such as Setia Sky Residences, Trefoil Setia ALam, Dwiputra Residences, Duta Villa, Trigon @ SetiaWalk, Duta Nusantara, Precinct 9, Setia Hills, and 35 Pearl Villas among others. Internationally, the company has made their presence in Australia, London, and Vietnam where they have carried out the following projects;
Vietnam – Hanoi, Ho Chi Minh City, Lai Thieu, EcoXuan, etc.
Australia – Maison Carnegie, Parque, and Sapphire by the Gardens at Melbourne.
Battersea Power Station in London.
The company has several upcoming developments such as the Setia Fontaines at Bertam and the RM7 billion worth of projects set to launch in 2018. They have a dedicated team motivated to provide luxurious sky suites, gardens, and duplexes for their clients despite the location. According to trusted sources, SP Setia boasts a reliable management system accompanied by a friendly approach that has seen young talents grow professionally. Their experience began with simple residential projects and grew into mixed developments after leaving a trail of monumental buildings in Singapore.
About nearby developments
Vast developments surround the property at a close distance and within the neighboring districts like Parc Esta. The government has detailed plans designed to meet the needs of nearby residents through developing public facilities and social amenities that will create job opportunities. Apart from having sustainable living and affordable housing facilities, the district is working on various projects to such as the upcoming Garlic Avenue Park, Tyersall Learning Forest Recreation site, and the Rail Corridor among others. Not to forget the vast road improvements underway and several MRT developments.
The condominium developments close to Daintree developments include The Hillion Residences which has over 486 units, iNz Residence, Bukit Batok Mixed Development, Sol Acres EC, The Orchard Towers, and Le Quest among others. According to Singapore's real estate, the Hillion mall is an integrated project with a mall, lush parks, and luxurious apartments designed with maximum expertise. Not to forget a selection of sky suites such as the Nottinghill Suites thriving a stone throw away from Daintree development. J Gateway Condo is also near modern facilities as well as an exceptional architectural design. A few minutes away from daintree residences, a high-speed rail terminus is set to take a position at the current Jurong Country Club. The redevelopment is meant to offer fast transportation to Singapore and beyond. The presence of these high-rising districts creates an extinguished selling platform for investors and drives the rental demand up. Additionally, their increase in numbers promotes friendly prices and healthy competition.
The condominium accords residents a robust transport network including the longest road in Singapore, the Bukit Timah Road. The exceptional connectivity within the region provides unparalleled convenience to residents such as access to the Central Business District via the pan Island Express (PIE) and Bukit Timah Expressway (BTE). The Ayer Rajar Expressway (AYE) connects occupants to the famous Marina Bay where natural beauty remains unscathed. Commuters can enjoy reliable public transport at the Beauty World MRT Station located within walking distance from Daintree Residences. It links occupants to Newton MRT Interchange, Little India MRT Interchange, Bugis MRT Interchange, Promenade, and Bayfront MRT Interchange where the line proceeds to the Singapore's Central region and its environs.
Thanks to the property's strategic location, residents can use the ten bus services available along the Jalan Jurong Kechil and the Toh Tuck Road. According to the district's urban development plan, the area will receive more bus interchanges to enhance the transport system.
The location grants children a wide selection of elite schools such as Bukit Timah School, Methodist Girls', Hwa Chong Institute, National Junior College Singapore University of Social Sciences, German European School, Swiss School and Dimensions International College among others. The education system at Serangoon accounts for all people including day care institutes and international learning structures designed to assist children in real life.
Additionally, the area offers rare opportunities to nature lovers by hosting a comprehensive ecological environment sitting on 1.64 sq. Km of a natural reserve known as Bukit Timah. It has numerous plant and animal species inhabiting the most beautiful lands in Singapore as well as the tallest hill locally recognized as Bukit Timah Hill. The nature reserve was established in 1883where its unique features, and touristic tendencies enhanced its restoration in 2014. So far, it has the longest and the tallest trail in Singapore with untouched tropical forest and a history that dates back to Sir Stamford Raffles' era.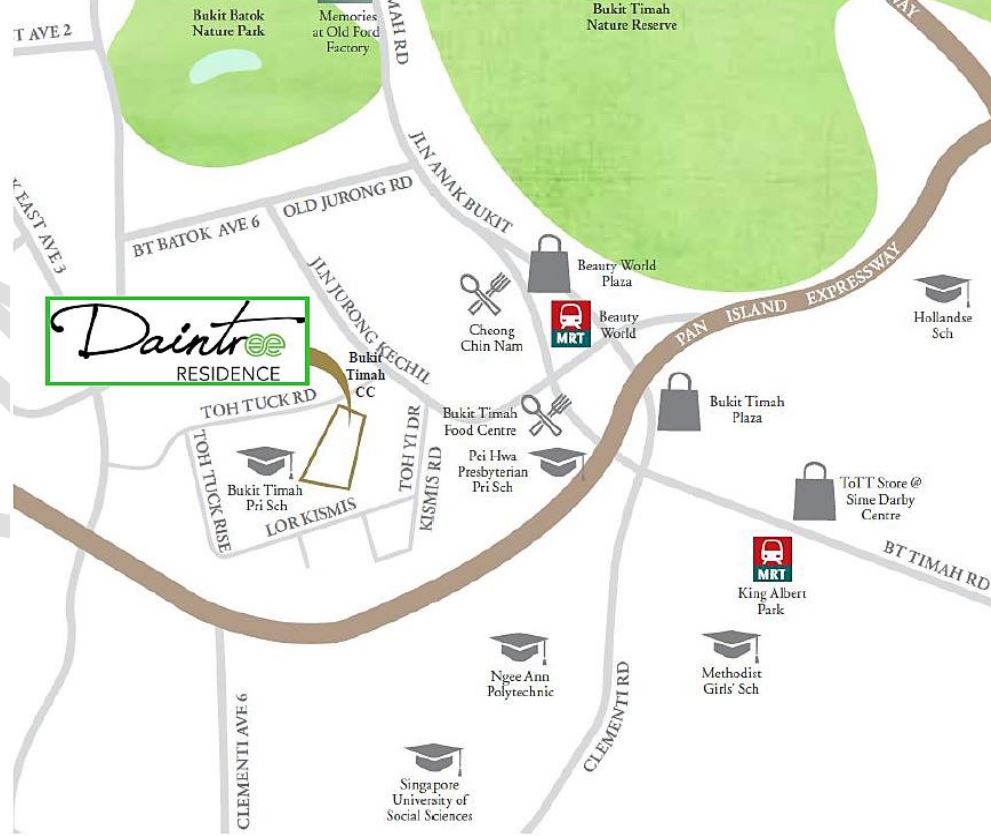 Nearby commercial buildings and shopping centers
Daintree Residence sits in a region with a wide selection of shopping malls, markets, entertainment hubs, and other commercial buildings. The Bukit Timah Market and Clementi Avenue happen to be within walking distance, and they are the most visited portals followed by Bukit Timah shopping center and the Beauty World Center which offer Daintree occupants vast trading experience enhanced by various supermarkets such as the NTUC Fairprice Supermarkets, and the Giant Express. It is also a prominent spot for dining at multiple joints like the MacDonald's, Hello Cafe, Dulukala Peranakan Restaurant, Jew Kit Hainanese Chicken Rice, Watsons, Joo Mark Korean restaurant, and the Beauty World Food Center. Additionally, residents have access to a series of banks, maid service agencies, spas, interior design companies, and other shops under one roof.
More trading complexes include the Cold Storage at Clementi Arcade, the Jurang Shopping Mall, Westgate Shopping Mall, IMM, JCube Shopping Center, Big Box, and other high-end establishments such as the Hillion Mall.
As for your entertainment, the Bukit Timah Community Club, Jurong Country Club, and Bukit Batok Community Club are at your disposal. The Civil Club plus the Orchid Country Club happen to be a drive away where guests obtain top-notch services from highly trained and qualified professionals.
Residents also have open access to NG Teng Fong General Hospital and Jurong Community Health Centre for their medical issues. On top of that, occupants have premier commercial buildings nearby such as the Vision Exchange Office, JTC Summit, and leisure parks like the Chinese Gardens, Goodluck Garden, Signature Parks, Pandan Gardens, Highgate Walk Playground, and the Eng Kong Garden. Although these premises are constructed to offer luxury, they exceed customer expectation by providing personalized services that are conversant with home experience.
The demand for the the condo is increasing as more investors show interest in securing different apartments. Each unit has been carefully crafted by highly trained engineers while SP Setia developers employ modern techniques and the latest technology to enhance your living experience. The property's location offers residents unparalleled convenience to shopping inlets/outlets, popular restaurants, bars, clubs, and beauty parlors. The area is a home for leisure parks, recreation centers, health facilities, premium schools, and quite a selection of condos. For more information, visit daintree property. Daintree is a safe-haven for your family and a paradise worth future investment. It is in a region with high rental demand accompanied by a friendly trading platform courtesy of the government. On top of that, the district fits under the state's master plan to rejuvenate the area with more amenities and transport networks. Book yourself a lavished apartment with Daintree Residence now. Your home awaits.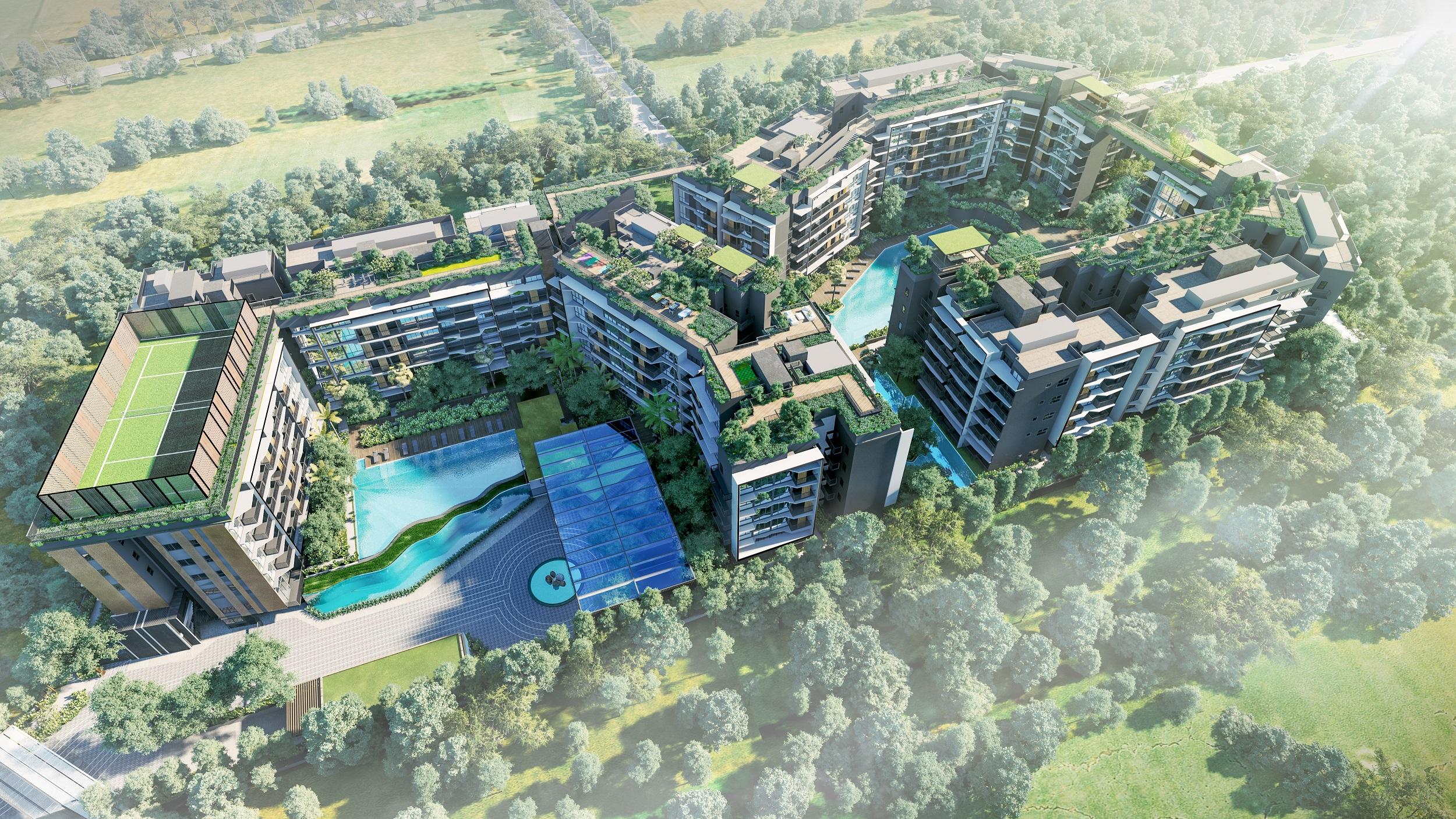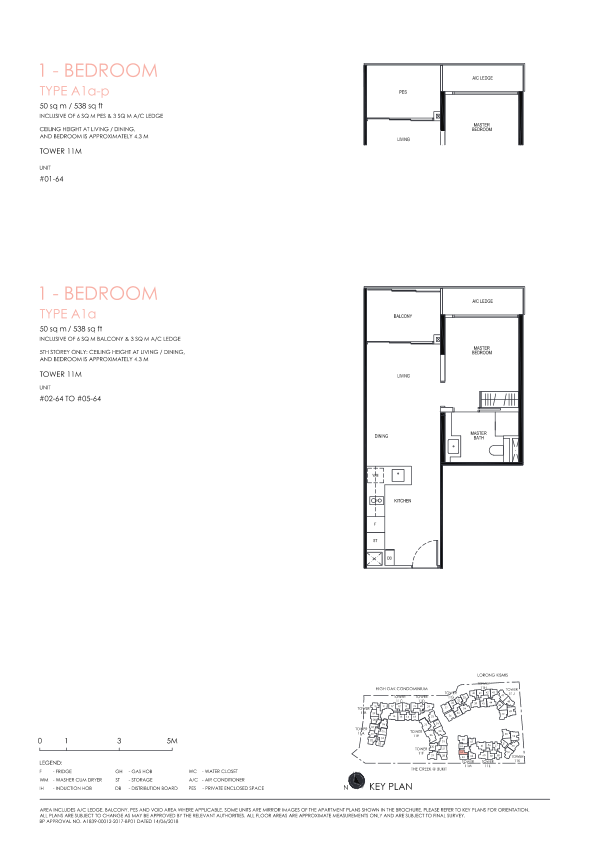 Last updated on 2018 December 19 03:12
Contact Me
Get in touch with me by filling in the form below, and I will get back to you as soon as possible.