Mayfair Modern
2 Rifle Range Rd, Singapore 588373
| | |
| --- | --- |
| TOP | |
| Tenure | 99 |
| Total Units | 171 |
| Site Area | 8,579.2 sqm |
| Property Type | Apartment / Condo |
| Developer | Citrine Property Pte Ltd, Subsidiary of Oxley Holdings Limited |
| Development | Proposed Erection of a Condominium comprising of 2 Blocks (8-Storey) Residential Flats |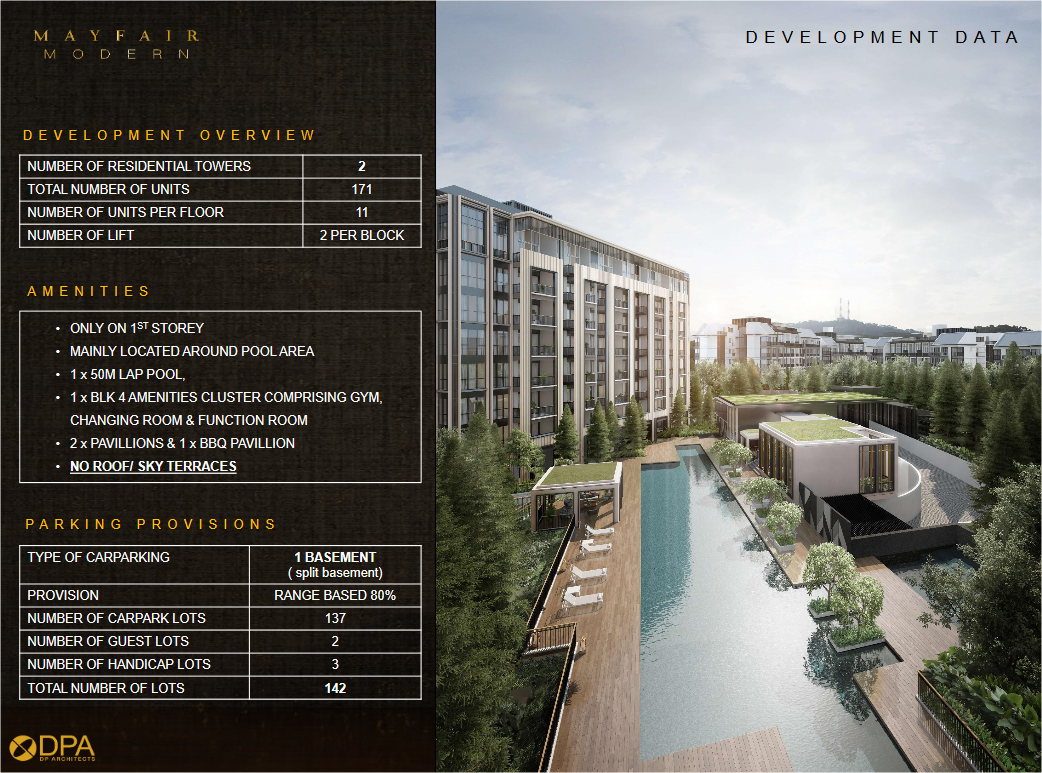 Mayfair Modern is a new leasehold development located right in the heart of Bukit Timah by Oxley Holdings. The development is the former Mayfair Gardens that was collectively sold to the developer around November last year. The prime piece of land represents an ideal location that is at Bukit Timah close to Beauty World as well as King Albert Park. The enbloc price for Mayfair Gardens was sold at $311 million and Mayfair Gardens consist of six residential walk up blocks that have a large square feet of around 1,076 sqft to 2,1,52 sqft. Mayfair Modern is located just minutes walk away from King Albert Park MRT Station on the Downtown Line. Mayfair Modern is situated within the Good Class Bungalows enclave in Rifle Range Road, within 1KM radius of Methodist Girls School and Pei Hwa Presbyterian Primary School. Within walking distance to Bukit Timah Hill, the design is inspired by the luxurious and prestigious buildings in Mayfair, London. A unique and serene living environment awaits you at Mayfair Modern by Bukit Timah.
2 Plots of Land Mayfair Gardens and Mayfair Modern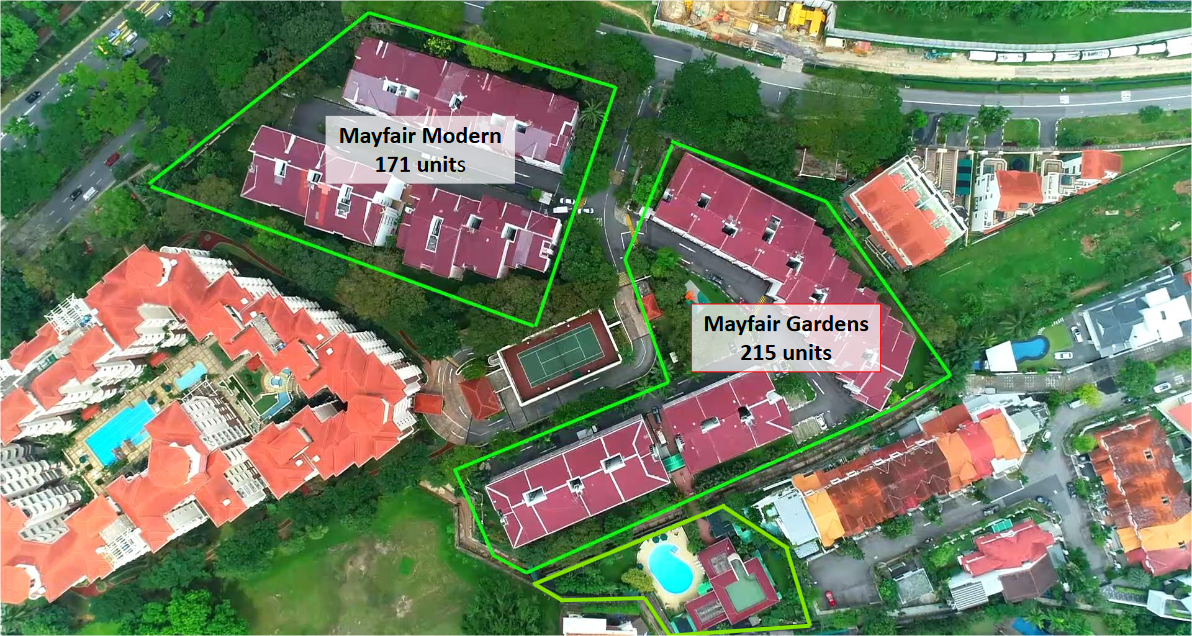 The development will consist of 2 plots of land which is called Mayfair Gardens and Mayfair Modern Condo. Mayfair Gardens is the inner plot that is away from the main road and will consist of 215 Units in total. It will be more relaxing as it is located away from the hustle and bustle of the main road and hence buyers who are looking for a more quiet unit would prefer Mayfair Gardens. Mayfair Modern is also near to the eateries at Turf City and The Grandstand where plenty of free parking lots are available for a family dinner at the development.
On the other hand, Mayfair Modern Oxley holdings, which is the smaller plot that consist of 171 units, will be launched 2 weeks later and will be the prized development that is conveniently located near to Dunearn Road. It is also located nearer to King Albert Park MRT Station.
Mayfair Modern Oxley Holdings
Mayfair Modern has full and unique facilities, which includes a guard house, clubhouse, function room, indoor gym, tennis court, 50m swimming pool, sun deck, BBQ pits & children's playground. The condo's facilities provide full family entertainment needs for your family and loved ones. Indulge in a serene and tranquil lifestyle right in the heart of Bukit Timah. Mayfair Gardens will be launching for preview this weekend and the indicative pricing is around $1,600psf. It is noted that Mayfair Modern receive good reviews for the plot of land as it is decently priced.
Mayfair Modern Former Mayfair Gardens Enbloc
Mayfair Modern Condo is also strategically located with many shopping centres located around in the vicinity. For example, the popular Bukit Timah Shopping Centre, Beauty World Plaza as well as Beauty World Centre are located near to Mayfair Modern Former Mayfair Gardens. Mayfair Modern Leasehold Condo is also located near to Bukit Timah Nature Reserve where plenty of outdoor families are available for residents to spend some quality time with their family.
Mayfair Modern will be accessible with King Albert Park MRT Station on the Downtown Line. Also, for owners who are taking buses, there are several buses available along Dunearn Road and Bukit Timah Road. For owners who are traveling to the city, Mayfair Modern is located right next to Bukit Timah Expressway (BKE) and Pan Island Expressway (PIE).
Staying near to International Schools and Prestigious Academic Institutions
Staying near to international schools will mean less time is needed to send the kids to school and the kids will have more time at home to rest or more time for tuition. Mayfair Modern Bukit Timah is near to a number of prestigious schools and therefore this would mean that they have more time to rest at home. Parents who send their kids to school will also take note that less travel time is necessary when sending their kids to school and getting home.
Oxley Holdings Real Estate Developer
Oxley Holdings is a property developing company. It is responsible for property development as well as property investment. This company works both locally and overseas. Today, it covers twelve markets around the world.
The company has a versatile portfolio which shows the great job and quality as well. Apart from property development, the company covers management and consultant issues. The company's portfolio involves commercial and industrial projects and residential ones. The basic features of the company's choice are preferred designs and prime locations. The company has gained a wide popularity since the very beginning of its appearance.
Oxley Holdings With Condo Projects In Different Parts of the World
The Oxley Holdings cooperate with different partners and tries to expand the business. It has its branches in the United Sates, London and South England. Speaking about the staff one may admit that it represent a high level of employees. Every worker is intelligent, responsible and hardworking. Additionally, they are reliable and highly-motivated. The staff has the common objective which is to satisfy the customers. Today, there are a lot of companies that work with property development, so Oxley Holdings tries to be on the top of the list. People respect the group and trust the staff respectively.
Achievements by Oxley Holdings
The company has got a lot of achievements. They are among 10 developers BCI. They got a Development of the Year RESI Awards in 2015. Additionally, it won the Singapore Property Awards FIABCI IN 2016.
5 Reasons Why Mayfair Modern
at Bukit Timah Could Be the Best Place To Stay in Singapore
What makes Mayfair Modern Condo the best place to stay? Well, if you are looking for a place with excellent connectivity, access to top-ranking schools and several amenities then look no further than Mayfair Modern.
Besides, the private residential area around Mayfair Modern Condo is a developing with lots of upcoming projects which means that land appreciation rate is high. So, if you need a place that adds value to your investment while providing your family excellent living space, you need to buy a house at Mayfair Modern Bukit Timah.
Here are some of the benefits that you will enjoy as a resident of Mayfair Modern :
Availability of Good Schools
When it comes to selecting the best residential area, a critical factor to consider is the availability of schools. You need to look for a place that not only has schools but schools which are prestigious offering quality education to your children. Lucky, future residents of Mayfair Modern have a lot to gain due to the proximity to popular schools.
The learning institutions cut across all levels ensuring that the education needs of kids from Mayfair Modern residence are well catered for. Additionally, the many schools in the area ensures that your options is not limited to only one school when picking the right one for your children to attend. This is why you need to make Mayfair Modern your home if you want your kids to access the best education.
Bukit Timah Everything You Will Need
Another factor that makes Bukit Timah worth living in is its unlimited supply of essential goods. If you make Mayfair Modern condominium your home, you'll have a peace of mind knowing that most of the things that you will need are just a few distances away. This is because it is next to various shopping facilities and you only need to take a walk or a few minutes' drives when going to shop. No need to cover long distances looking for essential supplies that your home depends on.
Some of the shopping and dining facilities that you will find around Mayfair Modern condo include; Beauty World Centre, Coronation Shopping Plaza, and Bukit Timah Plaza. Bukit Timah is also not short of places where residents of Mayfair Modern residences will get their foodstuff, you can get some of the best hawker food at Bukit Timah Food Market and Hawker Centre. You will also find restaurants, supermarkets, sundry shops and coffee shops around the area.
Bukit Timah is Quickly Developing
Bukit Timah has a wealth of amenities coupled with a strategic location that makes the area one of the places that everyone wants to live in Singapore. There are lots of investors venturing into the region characterized by ongoing and upcoming projects that will enhance the look of the area with a boost to its lifestyle. Some of the prominent residential estates near Mayfair Modern include Sixth Avenue, Parc Palais condominium, the Tessarina, Maplewoods and Signature Park.
These unique sites not only enable the residents of Mayfair Modern to enjoy the neighborhood, they also give their investment value. This means that if you decide to sell your property in future, then you have lots to gain due to the impressive land appreciation rate in this region. This is why you should grab this opportunity to make Mayfair Modern your home too as you watch your investment gain value with time.
Bukit Timah Enjoys Great Connectivity
Connectivity of the area you intend to make your home also matters since it determines what convince you are going to get. The fact that Mayfair Modern is well situated with good roads linking the residential area to other parts of Singapore makes it exceptional. Mayfair Modern along Dunearn Road is easily accessible via King Albert Park Mrt Station, Beauty World Mrt Station Sixth Avenue Mrt Station.
With excellent connection serving the residents of Mayfair Modern, the place is suitable for both private vehicles owners and residents who rely on public transport. Additionally, with no hectic traffic, your kids will get to school on time and arrive home early without being exhausted by delays in traffic. You will also have an easy time driving to the office in the morning.
Availability of Parks
Apart from the convenience, Bukit Timah has to offers, you will be impressed with the greenery that surrounds Mayfair Modern Condo. The residential home is also located a few distances away from Mayfair Park which offers you and your family an incredible destination to spend some quality time together.
Additionally, Bukit Timah Nature Reserve and Bukit Batok Nature Park among others are also around the corner. This means that you can never run out of beautiful destinations where you can go relax your mind when off from work. These places also give the surrounding region from Mayfair Modern a spectacular view adding a luxurious touch to your home.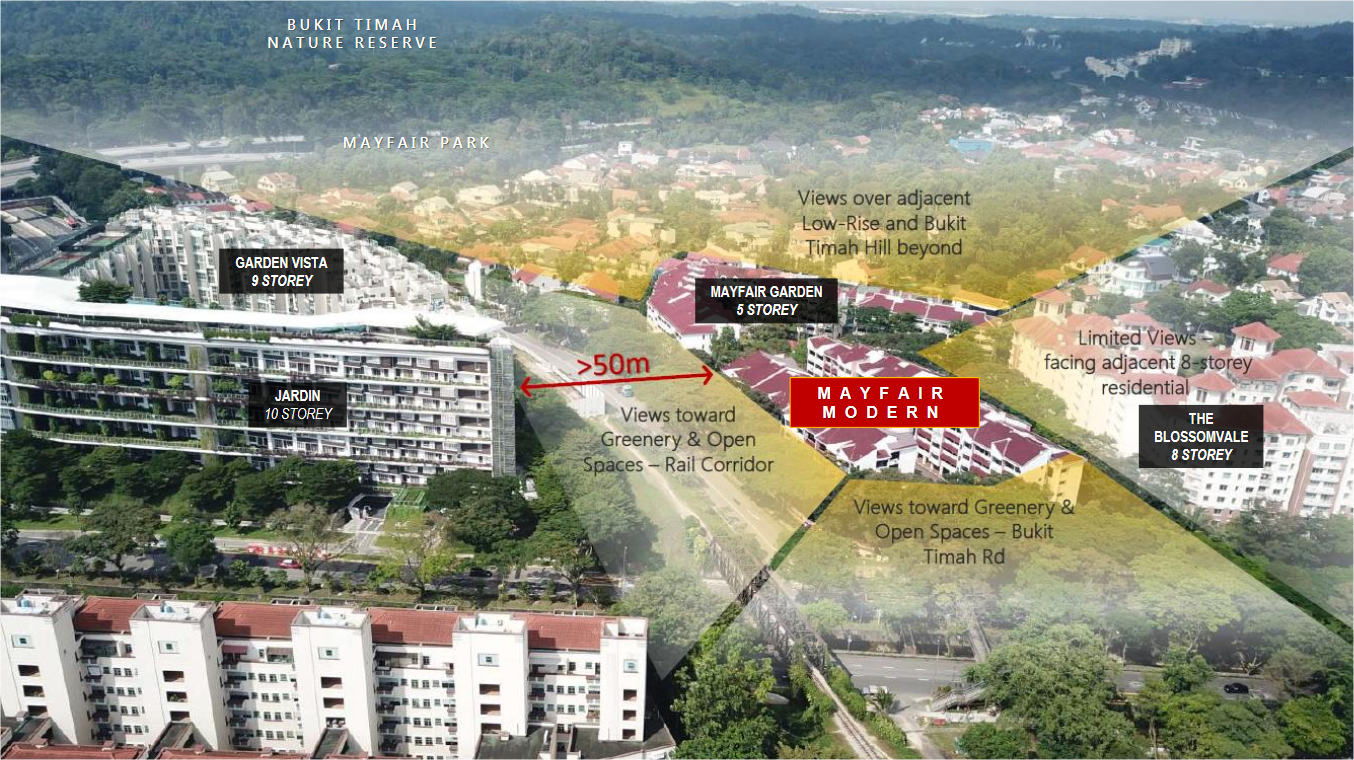 Nearby Schools to Residents of Mayfair Modern Oxley
One of the critical decisions that parents have to make at some point is which kind of school to let their children attend. Considering that the competition for good schools is ever increasing, residing in a place with plenty of schools to choose from such as Mayfair Modern is a wise idea. With several reputable schools surrounding Mayfair Modern Condo, you can rest assured that your kids will receive the right education.
Some of the top ranking schools around Mayfair Modern include:
Raffles Girls' Primary School
Hwa Chong Institution
Singapore Institute of Management
Hwa Chong International School
Ngee Ann Polytechnic
National Junior College
Nanyang Girls' High School
Nearby Shopping Centers To Residents of Mayfair Modern Condo @ Dunearn Road
Mayfair Modern is also well situated to allow residents gain from the shopping centers around the area. Despite having considerably fewer shopping centers as compared to other residential areas, they are enough to serve the residents of Mayfair Modern and the neighborhood.
Some of the shopping centers include:
Beauty World Centre
Bukit Timah Plaza
Bukit Timah Food Market
Coronation Shopping Plaza.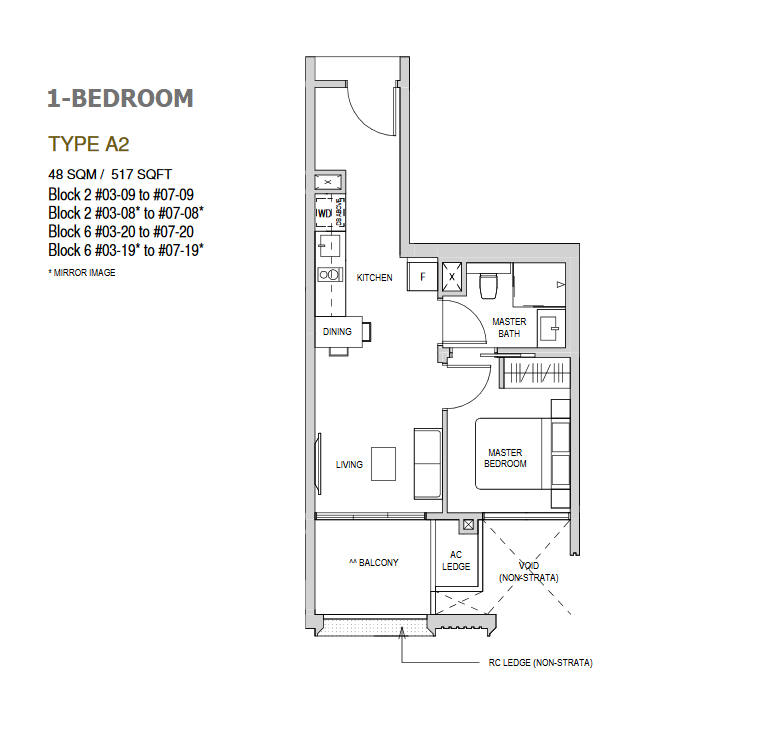 Last updated on 2018 October 30 04:10
Contact Me
Get in touch with me by filling in the form below, and I will get back to you as soon as possible.