Shunfu Road, JadeScape 顺福轩, Singapore
8 Shunfu Rd, Singapore 575745
| | |
| --- | --- |
| TOP | Jan 2023 |
| Tenure | 99 |
| Total Units | 1206 |
| Site Area | 408,927 sq feet |
| Property Type | Apartment / Condo |
| Developer | Qingjian Realty |
| Development | Residential Building: 5 Blocks of 3-storeys; 1 Block of 22-storeys & 1 Block of 21-storeys and 6 Shops |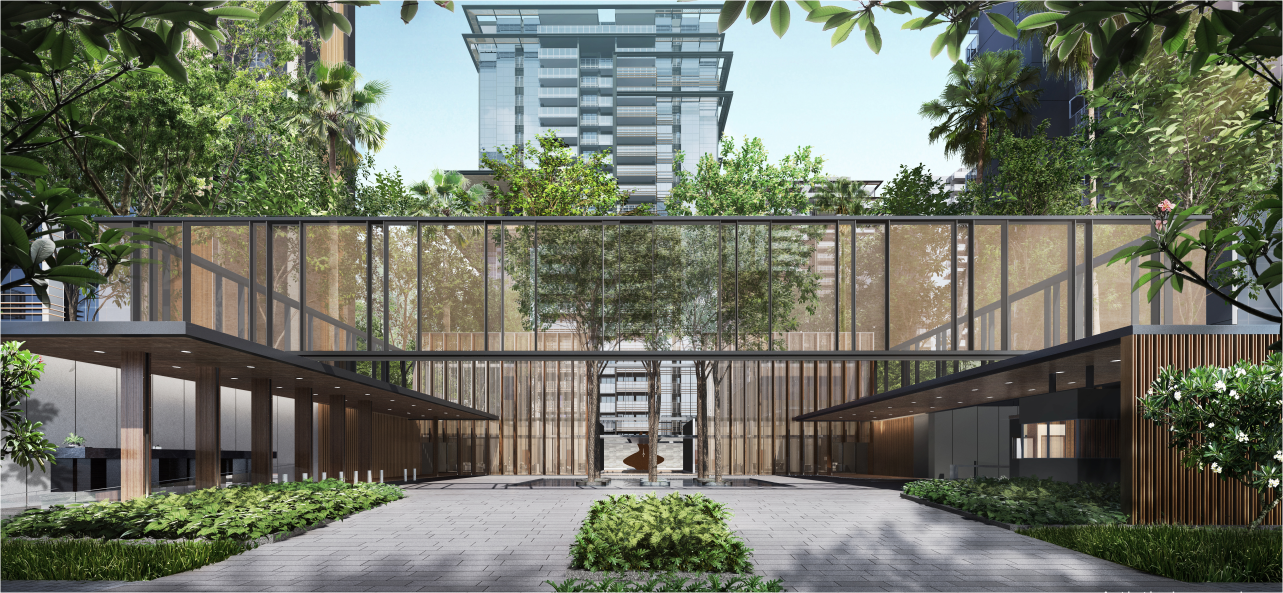 Jade Scape is the latest private condominium by Qingjian Realty which is located at Shunfu Road and is just 200m away from Marymount MRT Station. Jade Scape condo was the former Shunfu Ville by Housing and Urban Development Company (HUDC) that was put up for tender for an asking price of $688 million or $791 per sq ft (psf) per plot ratio. The offer of S$638 million was put up by Qingjian Realty and the owners accepted the offer.
It was noted that the 358 unit was put up for tender by the owners in Oct 2015 and there was no former bids. Jade Scape Qingjian Realty was put on launch again early this year and Qingjian Realty came in with the winning bid. This is Qingjian Realty's first enbloc purchase in the Singapore Real Estate Market and they are confident of the project given Jade Scape's prime location in the highly sought after Bishan-Toa Payoh area next to Marymount MRT Station. Jade Scape condo is also near to many park connectors where you can enjoy some quality outdoor time such as hi tech bikes with your family and friends. This will provide some quality time with your family.
Qingjian Realty Developer
Qingjian Group Co. Ltd the parent company of Qingjian Realty was founded in 1952 and has been in the business of real estate development, capital management, design and consulting, logistics as well as construction projects both locally and internationally.
Qingjian Realty, which has been active in Singapore and being one of pioneers in the real estate Developments in China has been privileged to have passed through the housing turnkey contract with high rating qualification. Qingjian Realty boasts of various awards, in 2005, Qingjian was granted the "National Quality Management Award" an honor bestowed upon construction enterprises. In the year 2012, Qingjian won "Mayor Quality Awards of Qingdao City" the very first award by the Qingdao City. The many achievements by Qingjian has not gone unnoticed locally and for that reason they boast of more than 300 awards and honours granted at the provincial level within China.
Unit Types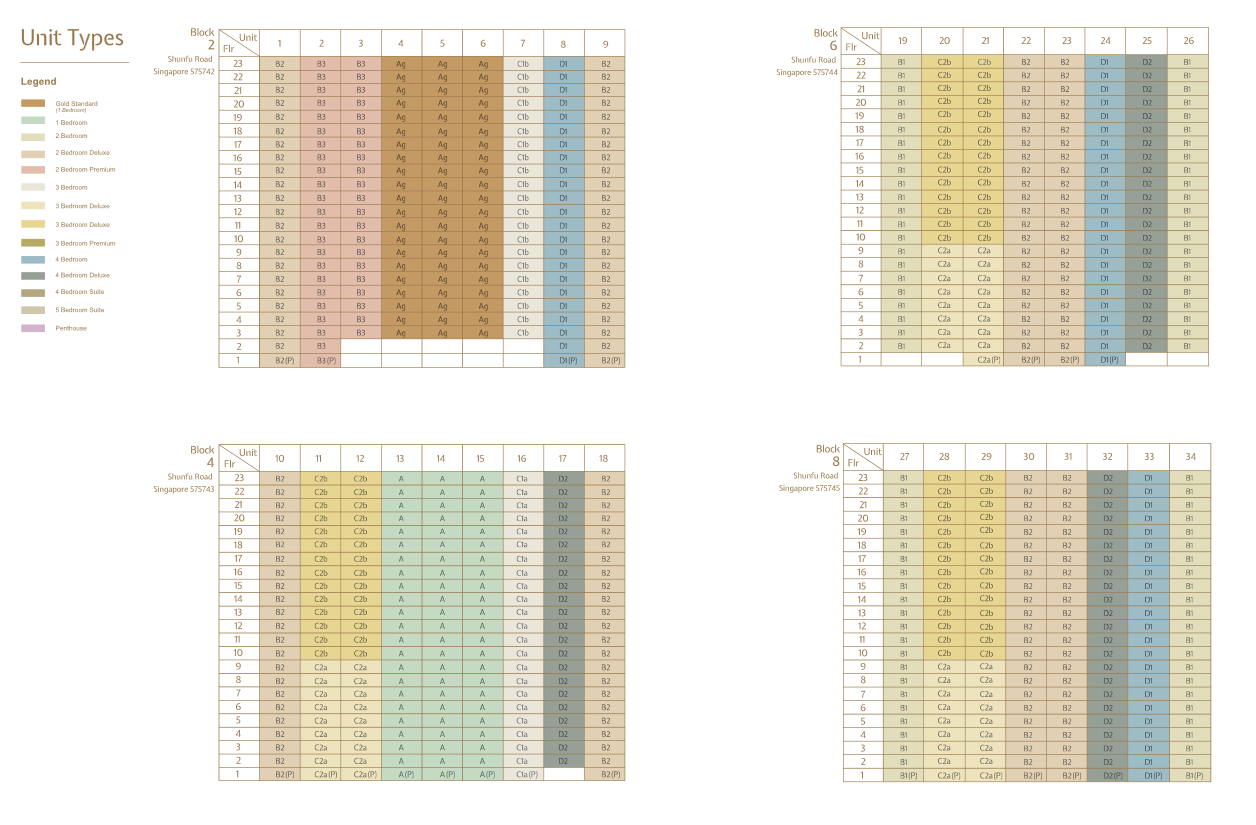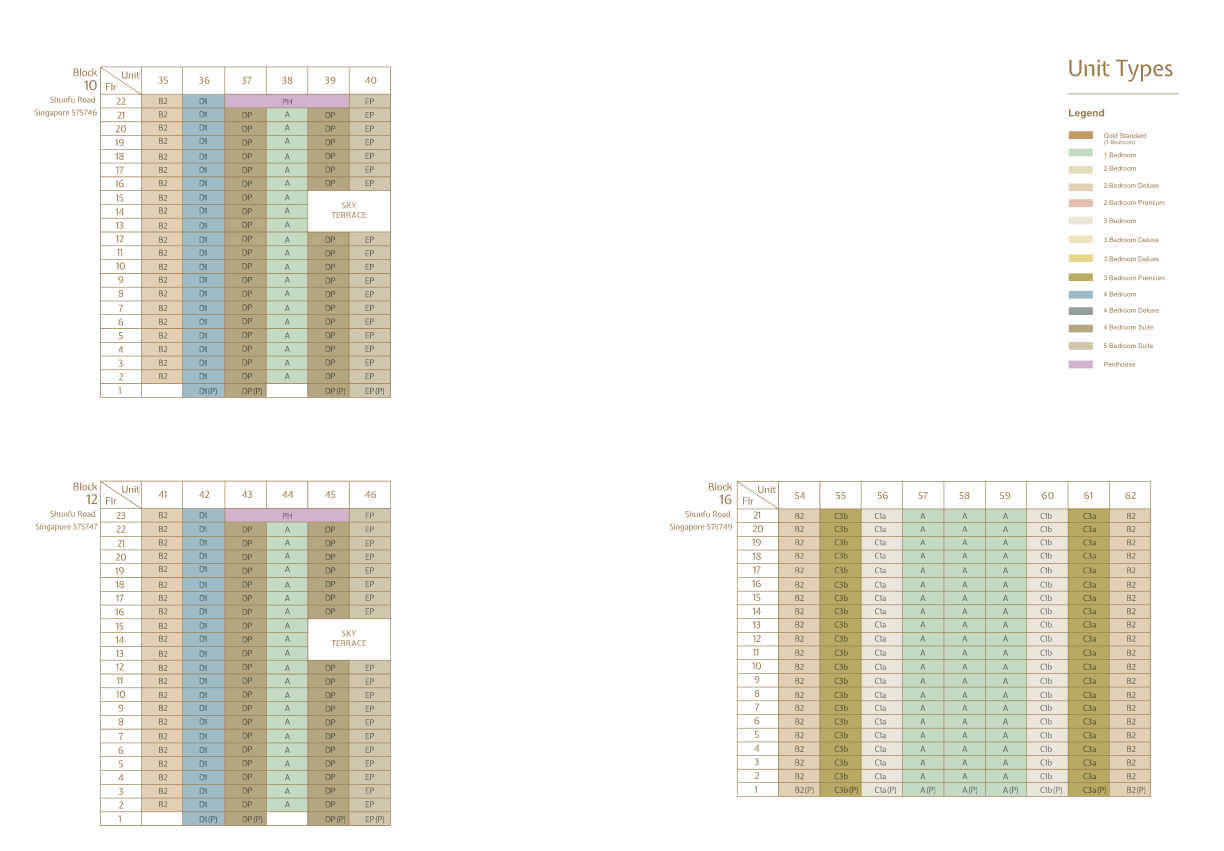 JadeScape is a 99-year leasehold private condominium development project by Qingjian Realty at Shunfu Road, District 20 Singapore. It is one of the largest condo development launches in 2018. JadeScape experiences complete limelight as it is a very talked-about development because of its Marymount MRT Station size, developer and area. JadeScape the new Shunfu Road condominium development was before known as the former Shunfu Ville by HUDC (Housing and Urban Development Company). JadeScape condominium development is going to be the next most successful launch at the edge of the city Marymount, Shunfu Road.
JadeScape an exclusive condominium development by Qingjian Realty having the site area of 408,927 square feet and a gross area of 1,144,995 square feet. JadeScape development consists of 7 tower blocks, and each block is 21 to 23 levels high. This condominium development has almost 1206 residential units and 6 commercial units. JadeScape condo residential units comprise 1 bedroom to 5 bedroom apartments of different styles and different unit areas. The architect hired for JadeScape an exclusive private condo development is Ong & Ong Pte Ltd. The development is modularly designed and constructed, this would be a record buster development.
JadeScape condominium is developed in a very sought after area at Shunfu Ville of Singapore at Shunfu Road, which is close to several amenities and conveniences like schools, MRT Stations, medical hubs, shopping centers, supermarkets, eateries, transportation hubs and many more. JadeScape condo by Qingjian Realty offers many facilities inside the condominium development to lead a luxurious life. JadeScape residential development is surrounded by the exclusivity of the city and at the same time, there are lush green sites and natural reserves that give coldness to your eyes.
JadeScape Developer (Qingjian Realty):
Qingjian Realty private limited is a china based company established in 1952 in China. Qingjian group co. Ltd is a very reputable real estate company that has worked on several successful projects include residential developments, commercial developments, and industrial development. The developer Qingjian group co. Ltd has won several awards for their tremendous performance in the real estate industry and became the Brand. They have started their journey in Singapore about 10 years ago with their subsidiary firm named Qingjian Realty Group Pte Ltd.
They have started working with several government projects to build their credibility. Qingjian Realty is the first developer who ropes in Singtel for its internet-ready EC (executive condominium) named The Visionaire Singapore. The developer Qingjian Realty has won BCA Green Mark (Gold Plus) award in 2010 for their significant development named Natura Loft (an HDB-DBSS project in 2008).
The developer Qingjian Realty Group Co. Pte Ltd is mainly known for its executive condominium development projects such as RiverParc Residence, Waterbay, Ecopolitan, Bellewaters, Bellewoods, and The Visionaire. Qingjian Realty has done several private residential projects as well such as Nin Residence, River sound Residence, and Le Quest. The developer has actively taken part in several GLS (Government Land Sales) tenders. Qingjian Realty has won the tender for former Shunfu Ville by HUDC and developed it into JadeScape.
JadeScape Location:
A private condominium JadeScape is located in the center of Singapore at Shunfu Road, District 20 and sandwiched between the highly demanded Bishan and Toa Payoh area. JadeScape is very well settled in the heart of the Bishan and Marymount area. JadeScape is mindfully situated at the central core region of Singapore which is 250 m almost 3 minutes away from Marymount MRT Station and 680 m away from the Upper Thomson Station.
JadeScape condo is quite accessible from Shunfu Road to several destinations via both public and private transport. JadeScape condo at Shunfu Road, Singapore area is very sought after area, its demand will further increase in the future due to future developments.JadeScape an executive condo development is located near Thomson Plaza and Bishan Junction 8. Future residents of JadeScape will get to enjoy several amenities in the vicinity, which they did not even think of having close to them.
This Jade Scape condo at District 20 area is the ideal place to live, as it has a lot of facilities and amenities like Marymount MRT Station, Ang Mo Kio secondary school, Catholic High School, and Ai Tong School in proximity. JadeScape sits in a very calm & serene environment along with the extensive amenities nearby. Travelling will become very easy for JadeScape residents as the transportation system is strong in this area, many buses will take you to the central business district (CBD), Orchard shopping district, and other destinations.
Amenities & Conveniences Near JadeScape:
JadeScape condominium development by Qingjian Realty has a handful of amenities and conveniences in propinquity. District 20 zone has many educational institutes, business hubs, transportation hubs, shopping centers, supermarkets, restaurants, medical hubs, and clubhouses. Shunfu Road is famous for many utilities one after the other to serve future residents of the JadeScape condominium.
Transportation near JadeScape:
As we all know the JadeScape is located on the edge of the business area and near the central business district. The Marymount MRT Station is 5 mins of walk away and the imminent Upper Thomson MRT is few mins of walking distance away from the Jade Scape condo. The JadeScape is situated near to several MRT Stations such as the Circle MRT Station Line, North-South MRT Station Line, Thomson East Coast MRT Station Line, and future Cross Island MRT Station Line. JadeScape residents will have easy accessibility to MRT Station, which will further lead to other destinations. Public transportation is also very effective and efficient in this area. Residents will be easily accessible to Harbourfront, Marina Bay, Dhoby Gaut, Jurong East, and Raffles Place via the Marymount MRT.
Once the Thomson East Coast Line will be completed in 2020 then residents can be easily accessible to East Coast Park. In the future, Thomson East Coast Line will be directly connected to the Malaysian Rail and then everyone can visit Johor Bahru easily. There are several buses in propinquity to the JadeScape such as 54, 74, 74E, 851 and 852. These bus services connect the passengers to the Yishun, Bukit Merah, the Bukit Timah, Bukit Batok, the Clementi, the Dover, the Buona Vista, the Botanic Gardens, Raffles Place, the Shenton Way, Tanjong Pagar, and many more places.
Moreover, the Central Expressway is also connected with Pan Island Expressway(PIE), Tampines Expressway(TPE) and Seletar Expressway(SLE) that enhances accessibility from Jade scape. Besides, the Central Expressway(CTE) is almost 5 minutes drive away from the JadeScape and linked to the Ayer Rajah Expressway. The Central Expressway will get you to the Orchard shopping belt and the Central Business District.
Jade Scape former Shunfu Ville Shopping Amenities:
There are several marts shopping malls, plazas, supermarkets, and groceries near JadeScape condo such as 5 minutes of drive away are Thomson Plaza, Bishan Junction 8 and other commercial shops along with Upper Thomson Road. Thomson Plaza was opened in 1979 and was formerly known as Thomson Yaohan. It has 4 storeys and comprises 154 retail stores for residents in the area of Shunfu Road.
Bishan Junction 8 is very well established and popular shopping mall of that area, the significance of Bishan Junction 8 is due to its direct connection to Bishan MRT station that leads to both the Circle Line and the North-East Line. It is also connected with a famous Bus exchange that works for approximately 10 bus services. Bishan Junction 8 comprises Daimaru departmental store, Golden Village cinema, Food Junction, and NTUC Fairprice. Junction 8 has an area across 376,740 square feet and now consists of about 174 shops.
JadeScape Nearby Schools & Educational Institutes:
JadeScape has a handful of prestigious schools and reputable educational institutes in the vicinity. The JadeScape at Shunfu road is an excellent area for parents and children as well, as there are very high-end schools with a good reputation. The best thing is there are educational institutes for all level of education such as the Catholic high school, Ai tong school, the Guangyang secondary school, the Guangyang primary school, the Marymount convent school, Kuo Chuan presbyterian primary school, Kheng cheng school, the Whitley secondary school, the Raffles Institution, St. Joseph Institution, the Bishan Park secondary school, Ang Mo Kio secondary school, Ang Mo Kio Primary School, the Kuo Chuan presbyterian secondary school, the Beatty secondary school, the Peirce secondary school, and the Mayflower secondary school.
The Raffles Institution is the oldest school from all near Shunfu Ville and has a dignified name because of their education and system. It is 5 minutes of walking distance away from JadeScape condo. The Raffles Institution is known as the premium education academy in Singapore, as it offers many scholarship plans for brilliant students.
Restaurants & Cafes near JadeScape:
JadeScape is located in the central region of Singapore and this area is best known for its proximity to a number of amenities. This Shunfu Ville zone has many delicious restaurants of different cuisines. JadeScape is surrounded by heritage places like Shophouses along with the Upper Thomson Road, it has beautiful heritage places for local foods. Some of the famous eateries are Shunfu Food Centre only 3 minutes walking distance, Roti Prata House, Nam Kee, Yi Jia Bakery House Café, Hua Nam Restaurant, Rochor Beancurd House and more.
Recreation Facilities near JadeScape:
JadeScape condo development has close proximity to several recreational centers, where you can enjoy yourself with your family and friends. The nearby recreational places include MRT Sports & Recreation Club, Singapore Scout Association, the Asian Gold Academy, the Macritchie Reservoir Park, Bishan Ang Mo Kio Park, the Singapore Island Country Club, and Singapore Polo Club.
Facilities Offered By JadeScape:
The JadeScape an exclusive Condominium Development near Marymount MRT offers a bundle of condo facilities to residents. These facilities include;
• There is a 24/ 7 high alert security system at Jade Scape condo.
• A smart home features system is installed in every residential unit.
• There are Gymnasium, fitness and yoga Deck facility for residents.
• The condo has a Tennis Court and Game room to enjoy games of your choice.
• The outdoor training area is available to practice games.
• Barbeque Pavilion is available for BBQ lovers.
• The JadeScape has a beautiful Waterfall Corridor that gives a natural feel.
• Kid's Pool, Kid's Club, and Kid's Pool deck facility for the enjoyment of kids.
• The condo has Sunrise Lawn to enjoy the fresh breeze of the morning.
• There is a 50m infinity pool and family pools are also available.
• Sky Deck is the best thing to enjoy the clean and clear view of surrounding with a serene environment.
• Herbs Garden is a worth watch garden with a lot of different herbs.
• Jade Scape condo has Party Lawn and Chillout lawn for small gatherings.
• There are Maze garden and Community garden to enjoy gardening with neighbors.
• The adventure playground is available for kids at former Shunfu Ville.


Key Selling Points of JadeScape:
• JadeScape Located at Shunfu Road, District 20 near Marymount MRT Station, this area is considered as the heart of Singapore and close to several amenities.
• Developed by a very renowned and award-winning developer named Qingjian Realty.
• It is one of the biggest newly launched property, Former Shunfu Ville is purchased and developed into Jade scape condo.
• JadeScape has 5 mins of walking distance to the Marymount MRT Station and few minutes to the Upper Thomson MRT station.
• The executive Condo is close to Thomson East Coast MRT Line and North-South MRT Line.
• Jade scape condo is very well linked to PIE (Pan Island Expressway), CTE (Central Expressway), and future North-South Corridor Singapore.
• Jadescape residential development is Close to several reputable schools & educational institutes, shopping Malls, Eateries, medical Hubs, and Business Hubs.
• The Shunfu Road area is very sought after area of Singapore due to high demand the potential rental yield is also high.
• The condominium development is close to MacRitchie Reservoir Park and Bishan-Ang Mo Kio Park to enjoy your time with family and friends. It is a very suitable place for kids.
• The residential condo offers a variety of good Selection from 1 bedroom to 5- Bedroom units and Penthouse Units according to residents' needs and preferences.
• Jadescape residences have diligent & premium interior fittings and quality finishings.
• The development offers a number of common facilities and luxurious facilities.
• Jadescape is Equipped with a Smart Home system to make the condo internet house.
JadeScape Floor Plan:
Jade Scape floor plan comprises 1 to 5 bedroom apartments of different style and different types. The condominium floor plan is below:
Units type unit Area No. of units Floorplan
1 bedroom 527sq ft – 527 sq ft 299units 3 floorplans
2 bedroom 646sq ft – 764sq ft 401units 4 floorplans
2 bedroom premium 775sq ft – 775sq ft 44units 2 floorplans
3 bedroom 904sq ft – 1055sq ft 223units 7 floorplans
3 bedroom premium 1141sq ft – 1152sq ft 126units 4 floorplans
4 bedroom 1259sq ft – 1647sq ft 261units 6 floorplans
5 bedroom 2099sq ft- 2099sq ft 39units 2 floorplans
JadeScape Price:
JadeScape by developer Qingjian Realty Marymount Pte. Ltd an executive condominium price estimates are as follows;
Unit Type Unit Price
1 bedroom from $898,571 & above
2 bedroom from $1,192,755 & above
2 bedroom Premium from $1,280,510 & above
3 bedroom from $1,646,020 & above
3 bedroom Premium from $1,905,204 & above
4 bedroom from $2,109,490 & above
5 bedroom Suite from $3,190,612 & above
JadeScape Showflat:
The JadeScape showflat location is located at next to Sky Vue condo along with the Bishan Street 15. You can now book the JadeScape showflat appointment online or personal. Contact us for further information.

Jade Scape Shunfu Ville Marymount MRT Station
The location of Jade Scape is also unparalleled as it is only a mere 200 metres away from Marymount MRT Station on the circle line. As the Shunfu Ville estate is a mature estate, there are many buses along Marymount Road and Shunfu Road that takes you directly to Bishan as well as the Central Business District area. Traveling to other parts of Singapore is therefore many convenient and also at your fingertips. According to many win webpages, the development will be available for viewing soon and Jade Scape condo showflat is located near to Marymount MRT Station. Developments by Qingjian Realty has been gaining traction lately with the complete sale of Qingjian Realty projects such as Bellewoods EC as well as Bellewaters EC.
Last updated on 2018 July 07 11:07
Contact Me
Get in touch with me by filling in the form below, and I will get back to you as soon as possible.