The Verandah Residences, Singapore
231 Pasir Panjang Rd, Singapore 117629
| | |
| --- | --- |
| TOP | 2023 |
| Tenure | freehold |
| Total Units | 170 |
| Site Area | 89,620 sq feet |
| Property Type | Apartment / Condo |
| Developer | Oxley Holdings Limited |
| Development | High rise condominium with North-South Facing Overlooking Pasir Panjang; 1 to 4 Bedroom Units Available |
The Verandah Residences is an exclusive freehold development nestled in a private residential enclave of Pasir Panjang vicinity. The design concept is "Black and White" theme. It is about 500m from the Har Par Villa CC 25 MRT station and there are direct bus services and easy drive to Science Park, NUS, Jurong East 2nd CBD, Vivocity / Sentosa gateway to Resort World, Shenton Way / CBD and Marina Bay Financial District.
It is easily accessible to Ayer Rajah Expressway (AYE), West Coast Highway, Pan Island Expressway (PIE). Huge tenants pool from major employment hubs like NUH, NUS, Science Park, Mapletree Business City (Pasir Panjang Road/Alexandra Road), Alexandra Business Park, Ayer Rajah Industrial Park, Biopolis, One North Innovation Hub etc
​Eateries are located at Icon @ Pasir Panjang and Viva Vista which are directly opposite The Verandah Residences. Pasir Panjang wholesale market is closeby to buy your fresh groceries.
It is located in a 'Green Belt"area, those who love nature its just a short walk to Kent Ridge Park, Hort Park and also a short drive to Labrador Park and Mount Faber Park, where family members can have a good bonding time walking with nature. Sports enthusiasts can visit Keppel Club to have a round of golf or to West Coast Park or Clementi Woods for a jog or cycle round the park.
​The Verandah Residences is also located along the future development belt for the Greater Southern Waterfront Master Plan, which stretches from Telok Blangah - Pasir Panjang - West Coast - Jurong - Tuas. Hence, good potential for capital appreciation.
WHY INVEST IN THE VERANDAH RESIDENCES
FREEHOLD
Developed by renowned Singapore-listed developer Oxley Holdings Limited
High Rental Demands (Commercial office, Education Belts, Hospital)
Nested on only Luxurious Pte Residential Cluster
With the close proximity to many prestigious school like NUS Business School, Yong Loo Lin School of Medicine, ISS and St Thomson Secondary School...
5 minutes away from Haw Par Villa MRT and Pasir Panjang MRT station
Easy connect to Changi Airport, Raffles Place, Orchard Road, Alexandra Hospital...
Convenient travel to the Central Business District (CBD) and Jurong Industrial
5-star facilities that include Functional room, Guard house, Jacuzzi, Indoor gym, etc
Surrounded by many retails and business hubs such as Viva Vista Mall, Icon @ pasir Panjang, Keppel Club, Vibes at Upper Serangoon, Within the Vicinity of 11 Business & Industrial Parks
Good Value Appreciation expected with the Greater Southern Waterfront Master Plan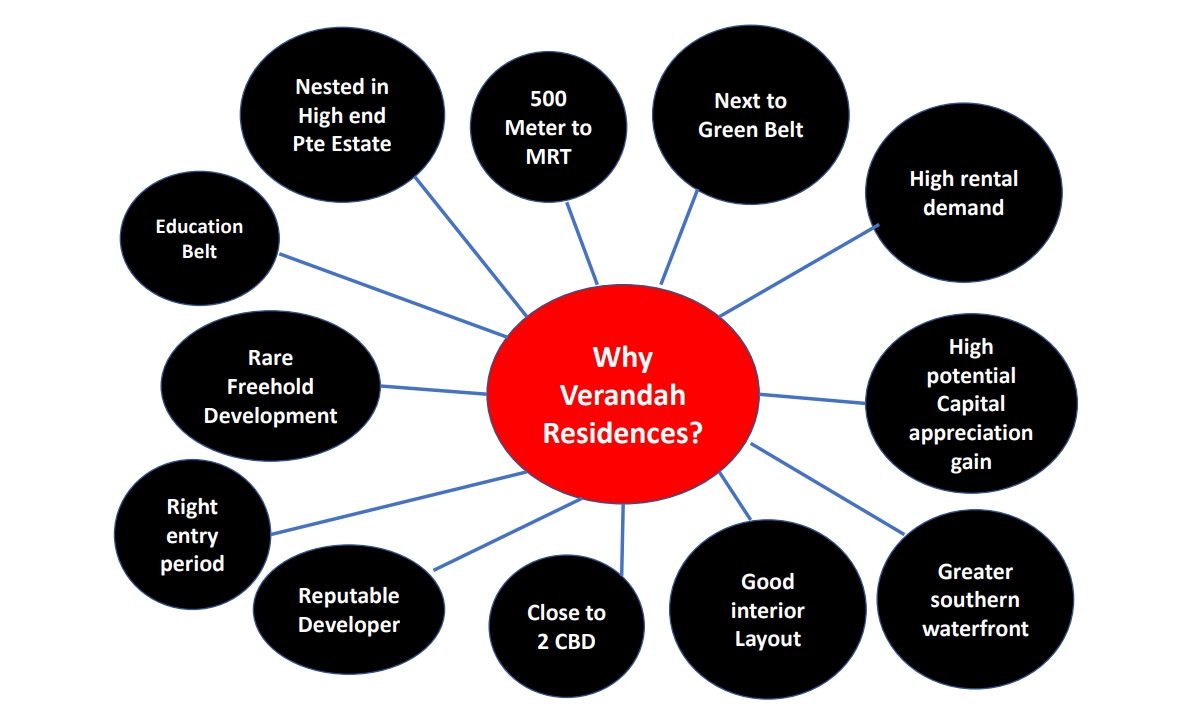 With the ever-growing demand for living places that the world is facing at this moment, it seems only right that people keep building houses and skyscrapers to inhabit. The problem is that many of those buildings more often than not, are not very well planned, developing urban issues in the long run. For this very reason, there is a need for experts that help build not only pretty but durable and functional places for the people to live. The Verandah Residences oxley holdings will be an example of this, bringing to the table exquisite architecture without forgetting about durability and functionality in the way. The Verandah Residences showflat will be available for viewing soon. The opening and viewing dates to be confirmed in the next few weeks.
The Verandah Residences Showflat Viewing Dates
The Verandah Residences freehold condo are a new construction project being carried out by Oxley Holdings Limited in Singapore, more specifically in an area named 231 Pasir Panjang Road. The project covers a rough area of 89.000 square feet along the Road and it is estimated to build around 150 units. The project goal is to build high rise condominium with a privileged location that overlooks the 231 Pasir Panjang Road. The architecture will be designed to be elegant and modern, without forgetting about the rich historical elements of the colonial period. It is a bold project that will deliver breathtaking results.
The Verandah Residences by Oxley Holdings Showflat Opening
The Verandah Residences project aims not only for great looks but for functionality as well, as it will be located near every place a person could need on their everyday life, it will be located near the West Coast area, meaning there will be numerous places to eat, ranging from restaurants to little establishments, as well as shopping centers like the Verandah Plaza, which is another project being developed that further enhances the experience of living in the Verandah Residences. As it can be seen there are enough places for entertainment along the West Coast area, as well as places to perform outdoors activities like the beach or parks like the Kent Ridge Park. Its location will allow the residences to be accessible either via subway or via buses and cars.
The Verandah Residences Showflat
The planning on the Verandah Residences Condo is very well thought as it is going to be built near Jurong East Central Business District and Vivocity which are, of course, sources of employment. Education is crucial to the Singaporean people, so having easy access to education facilities is a huge advantage. Being so close to the West Coast area, the Verandah Residence owners will have access to the National University of Singapore (NUS) and elite schools like the Tanglin Trust School and the River Valley High school, giving the residents of the area the opportunity to study near their living places, which will save them some time and money on transport.
Ultimately The Verandah Residences project which combines a beautiful architecture and a wonderful location with a lot of the essential things that people need to live comfortably, such as entertainment, education, and work can be considered as a very ambitious project, not only because of its size but because its functionality goals. Every thought put into The Verandah Residence project solves an urban problem, and that is a huge task for every urbanist, architect, and engineer involved in the project. When this project is completed we will be able to see with our own eyes its magnitude and will witness a huge architectural accomplishment.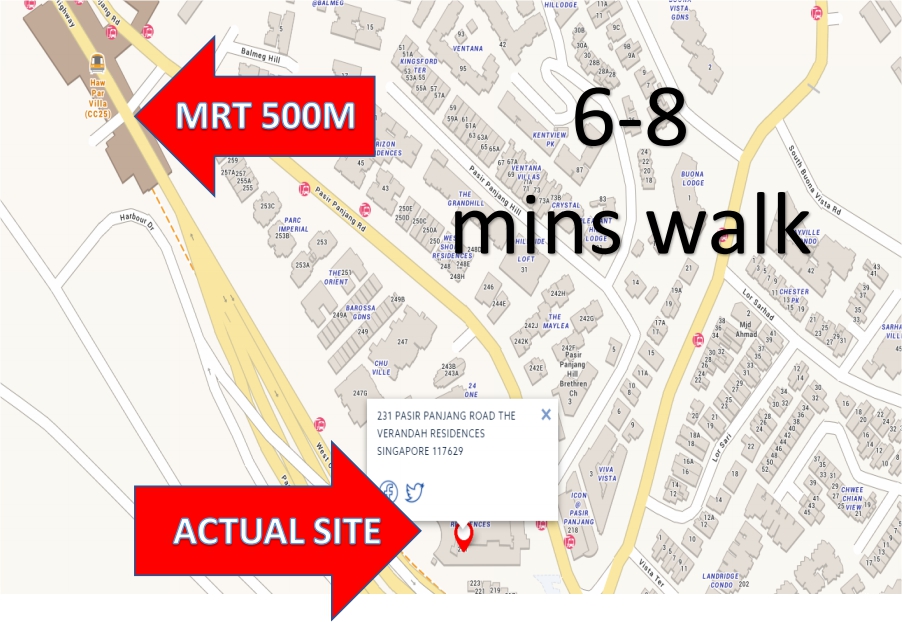 The Verandah Residences is a freehold development located at 231 Pasir Panjang Road. It is land from the former Redwood West Building and is located near to Haw Par Villa MRT Station as well as Pasir Panjang MRT Station. The Verandah Residences is developed by Oxley Holdings Limited and represents a freehold condo that is located minutes away from Vivocity as well as Jurong. The Verandah Residences Oxley Holdings is also located near to Star Vista at Buona Vista MRT Station and is a short drive away from Vivocity which is the heart of the Shopping District in the South of Singapore.
The Verandah Residences 231 Pasir Panjang Road Oxley Amber Condo
The Verandah Residences Prime Freehold Condo Near Haw Par Villa MRT Station is located near to National University of Singapore (NUS) as well. Therefore, Verandah Residence offers owners an exclusive investment opportunity for rental potential for working professionals around the area. Also, the development at 231 Pasir Panjang Road is located just minutes away from the Jurong Central Business District where new offices such as Vision Exchange and the office buildings near to International Business Park at Boon Lay and Jurong East will offer tenants to the development at a regular basis.
Bus Interchange & MRT Near The Verandah Residences
Haw Par Villa MRT Station
Pasir Panjang MRT Station
Shopping Mall Nearby The Verandah Residences
West Coast Plaza
The Star Vista
Vivo City
Schools Nearby The Verandah Residences
National University of Singapore (NUS)
Anglo Chinese Junior College (ACJC)
Fairfield Methodist Primary School
Fairfield Methodist Secondary School
The Verandah Residences Freehold Condo Haw Par Villa MRT Station
The development was bought over from Oxley Holdings through its subsidiary company Oxley Amber from Casuarina Properties on 11 July. The property was bought at a price of S$121 Million. Based on the size of 89,620sqft land size as well as a plot ratio of 1.4, the Gross Floor area for the plot of land will be at 125,468 sqft and an estimated 180 units can be build on the plot of land. The Verandah Residences will be a signature addition to the developments at West Coast as well as Pasir Panjang Road and the development by Oxley Holdings Limited will be located near to Haw Par Villa MRT Station on the Circle Line.
Many other places of interest including West Coast Park and Kent Ridge Park are located near to The Verandah Residences. Please see The Verandah Residences site plan and floor plans for more information.
Amenities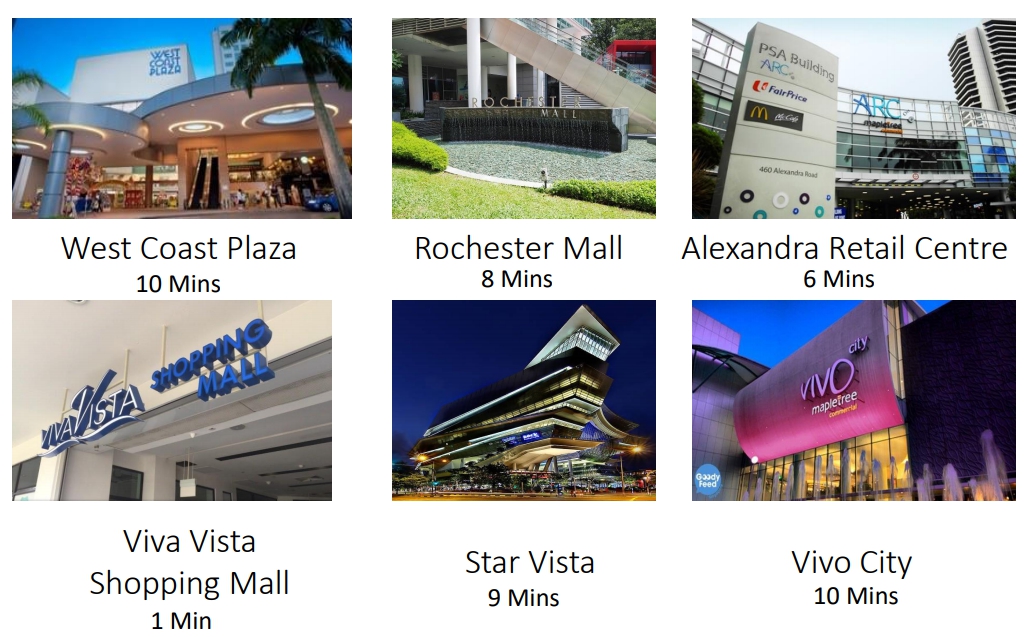 Green Belt
Why Buy Now?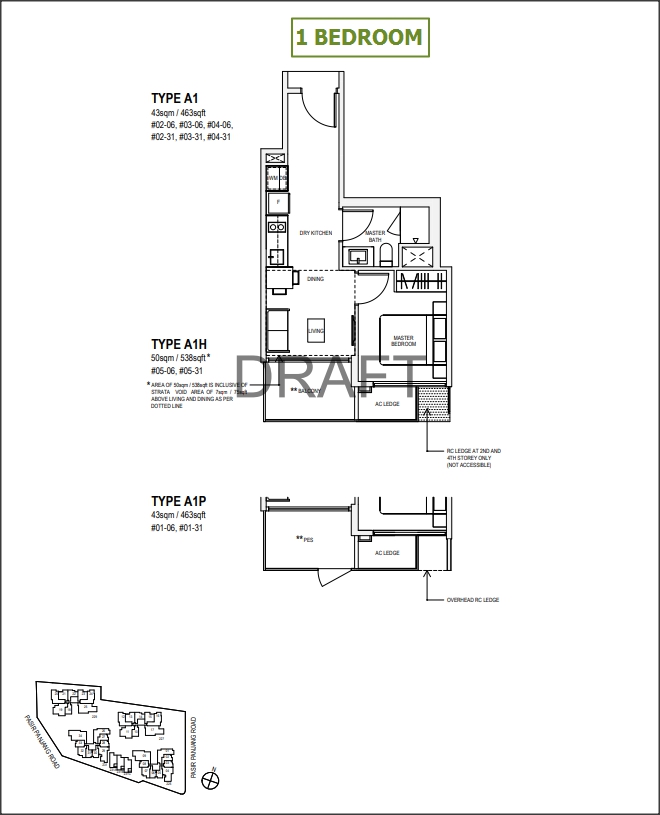 Gallery
(1 Video)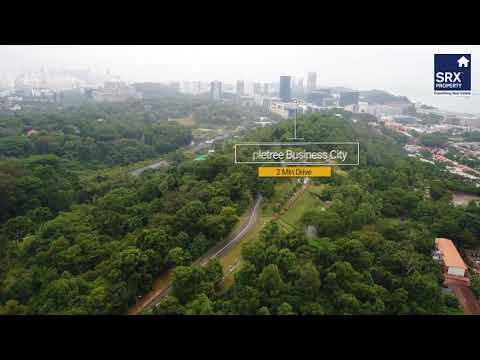 Last updated on 2018 April 16 09:04
Contact Me
Get in touch with me by filling in the form below, and I will get back to you as soon as possible.