Marina One Residences
23 Marina Way
| | |
| --- | --- |
| TOP | 31st Aug 2018 |
| Tenure | 99 |
| Total Units | 1042 |
| Site Area | Approx 26,244.20 sq metter |
| Property Type | Apartment / Condo |
| Developer | Malaysia's Khazanah Nasional Berhad and Singapore's Temasek Holdings |
| Development | 34-Storey towers ( 140,000 sq feet ) ; 30-Storey towers designated for Grade-A offices |
ABOUT MARINA ONE
Marina One Residences is part of a landmark mixed-use development (Marina One) at an enviable location at Marina South – a district designated as a high growth area to establish a global business and financial hub by Singapore's Urban Redevelopment Authority.
Be at the heart of the city and centre of it all. With links to four out of six major MRT lines and expressways, Marina One Residences is conveniently located and seamlessly connected to everything you want and everything you need.
With a total gross floor area of 341,000 sq m on a land spanning 2.62 hectares, Marian One will provide Grade a office spaces, high-end residences and retail spaces alongside world-class developments in Marina Bay and Marina South districts such as Marina Bay Sands, Marina Bay Financial Centre, Singapore Flyer, Esplanade Theatres On The Bay and Gardens By The Bay.
Imagine living in a luxurious oasis, in the heat of the city, and experiencing serenity like never before. Thanks to the ingenious design of a central garden, a natural cool cocoons the development; while evoking a sense of tranquility similar of a peaceful paddy field. Here among the verdant flora, one will come to appreciate the organic connection between man and nature.
With inner-city park living similar to London'sHyde Park, the development occupies a highly conveted location nestled by the Central Linear Park and Marina Station Square. The delightful mix of greenery and pulsating energy from Singapore's Central Business District makes Marina One Residences charming and dynamic at the same time.
Marina One has won three awards - Best High Rise Architecture, Best Mixed-Use Architecture and Best Mixed-Used Development at the Asia Pacific Property Awards 2012.
CONCEPT
Set at the heart of Singapore's new CBD, Marina One was born out of the collaborative strength of Malaysia's Khazanah and Singapore's Temasek to create a premier Marina Bay integrated development designed by world leader in sustainable Supergreen architecture, Christoph Ingenhoven.
• Prime Grade-A office space, luxury residences & unique retail offerings set around lush greenery of over 65,000 sqft
• Leading edge 'City in a Garden' concept with lush greenery within Marina One's Green Heart and flanked by two neighbouring parks – Marina Station Square and Central Linear Park
• Seamless connectivity to 4 MRT lines via underground pedestrian networks
• Supergreen sustainable features with LEED Platinum and Green Mark Platinum ratings
• Iconic identity formed by architectural louvres, balcony design, kinetic night-lighting features and more
ARCHITECTURE
The design for Marina One by Ingenhoven Architects and A61 unifies the four land parcels to become one identity instead of four different buildings. Its outer façade defines the city grid whilst the Green Heart binds its towers together. The iconic louvres, which visually unify the integrated development, are an integral part of the Supergreen concept to create a comfortable climatic environment within Marina One.
The multiple stepped gardens – inspired by Asian rice terraces – further improve the micro climate and provide the largest green urban sanctuary within Singapore's CBD for the benefit of Marina One's occupants and community.
LANDSCAPE
With the ingenious design of a lush central garden by Gustafson Porter and ICN Design, Marina One boasts of a luxurious oasis in the heart of the city.
Amidst the hustle and bustle of the CBD, experience a sense of tranquillity and serenity like never before. Here among verdant flora, Marina One is the perfect balance of a city within a garden.
Marina One's landscaping draws on the diversity of flora found at various altitudes in the tropics. The conceptual abstraction of natural climate and altitude changes informs the planting intent where the Green Valley scheme on Levels 1, 2 & 3 create a sense of enclosure and intimacy of the rainforest, the Cloud Forest scheme on Levels 4 & 15 depicts the transition through a tropical cloud cover whilst the Mountain Top scheme portrays a montane forest at the Rooftop level.

FACILITIES
(Level 2)
-Resident's Clubhouse with concierge counter
-Private Lounge
-Private Dining Room
-Multi-Purpose Room
-Gymnasium
-Landscaped Garden
(Level 3)
-Lap Pool
-Pool Deck
-Jacuzzis
-Aquatic Gym Pool
-Pavilion
-Wellness Sanctuary
-Relaxation Cabana
-Party Zone
-Outdoor Fitness Area
-Teppanyaki Terrace
-BBQ Terrace
-Putting Green
-Male and Female changing room with Sauna and Steam Rooms
Marina Bay is one of Asia's real estate success stories, conceived as a place for financial and multi national companies to prosper together with attractions such as Marina Bay Sands, Gardens by the Bay, Esplanade Theatres on the Bay, ArtScience Museum and the annual International Formula 1 Grand Prix at the Marina Bay Street Circuit to bring new life to the city.
The Urban Redevelopment Authority vision of a 'Garden City by the Bay' has delivered a financial powerhouse and numerous world-class attractions connected to Singapore, Asia and the world. At the heart of this vibrant new district sits Marina One, the region's premier integrated development.
Marina Bay is well served by a comprehensive transport network including underground mass rapid transit stations and major expressways, providing residents immediate access to the rest of the island and beyond.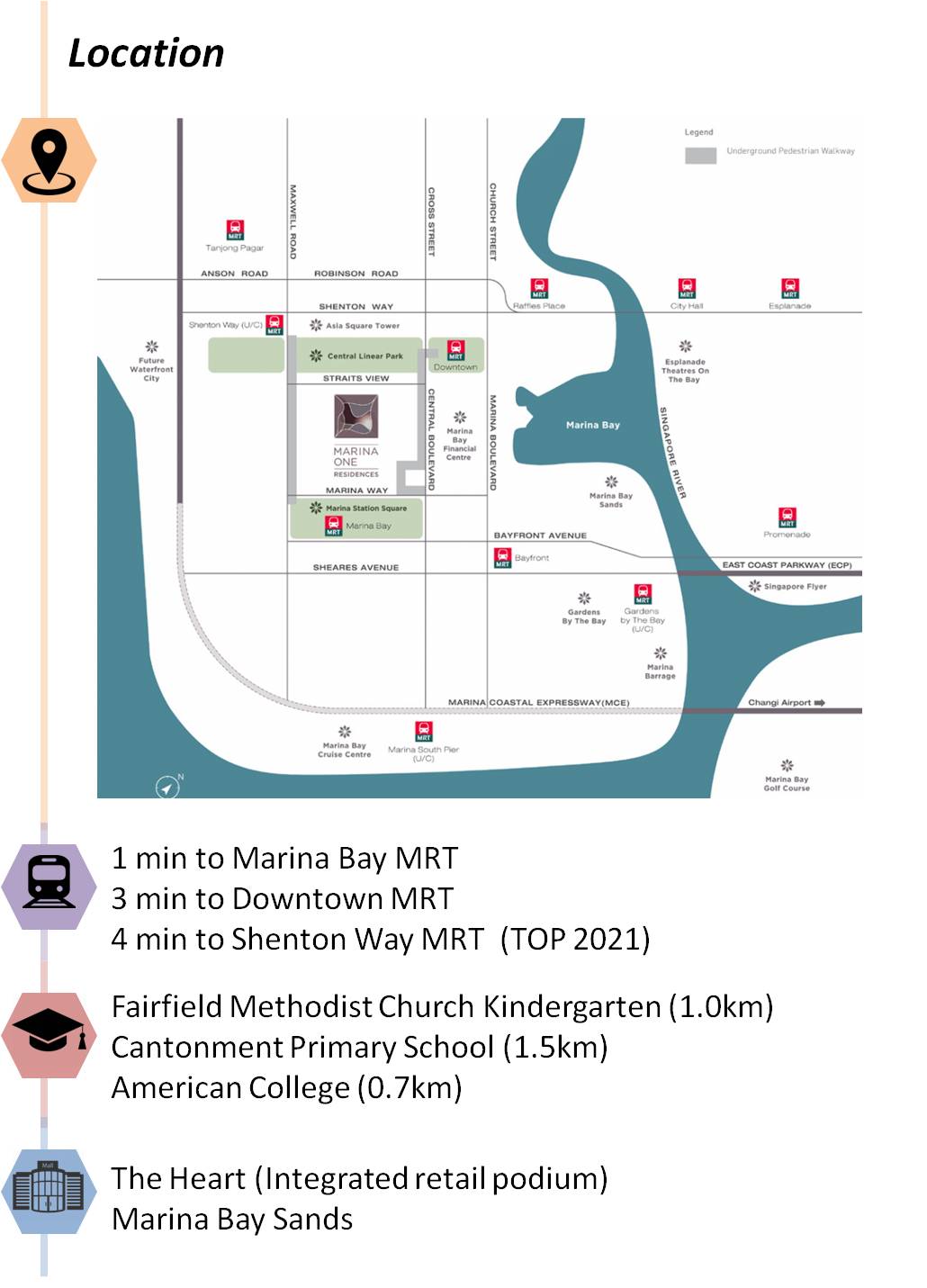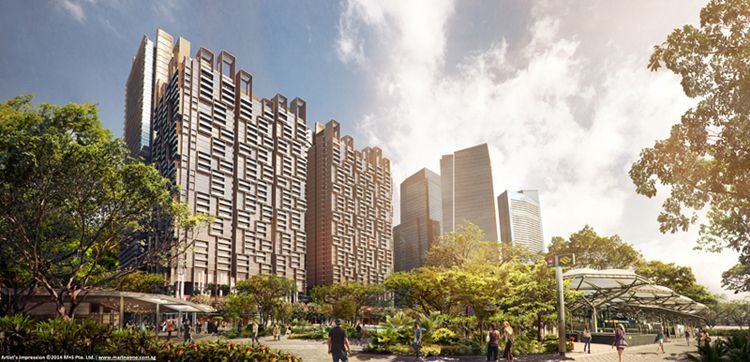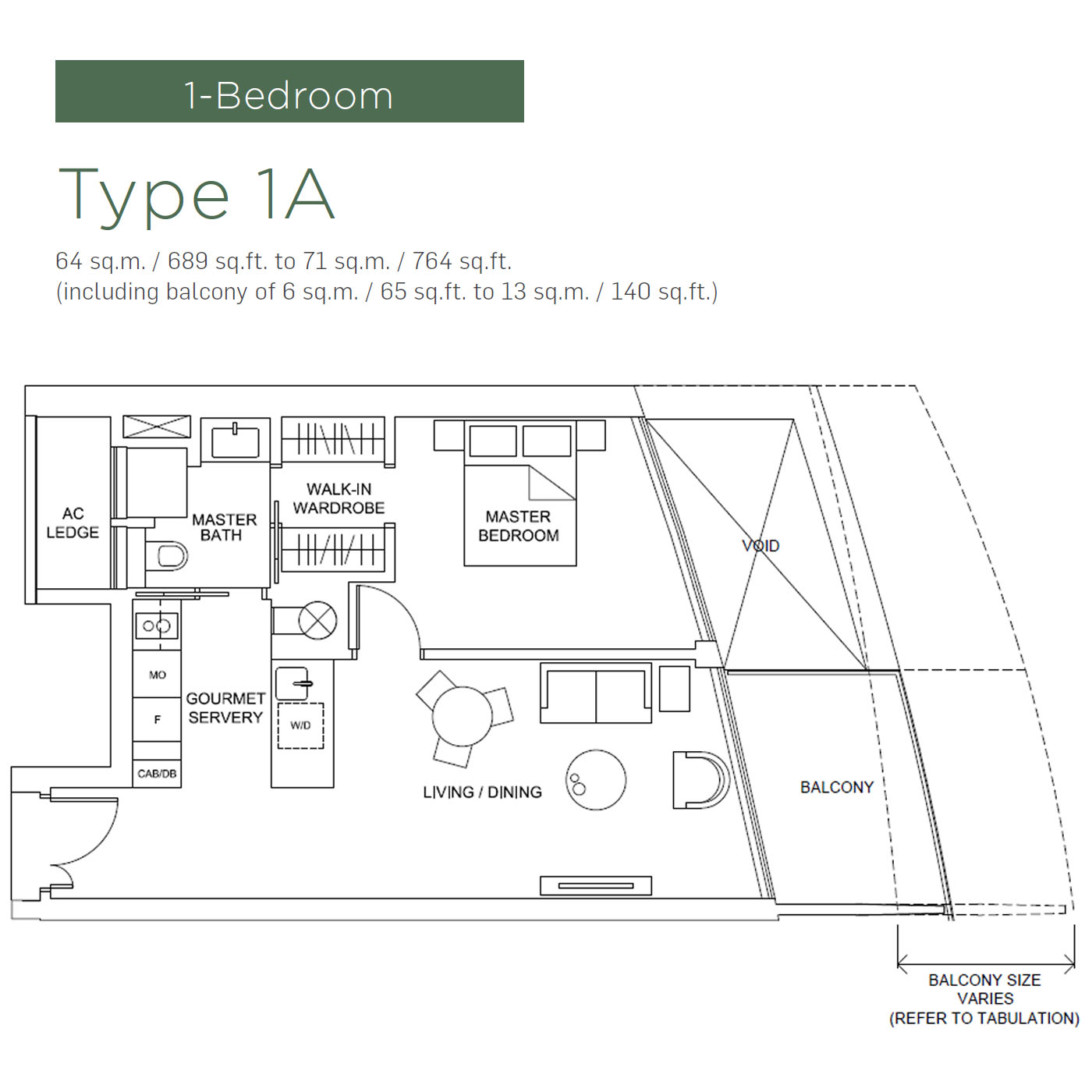 Gallery
(1 Video)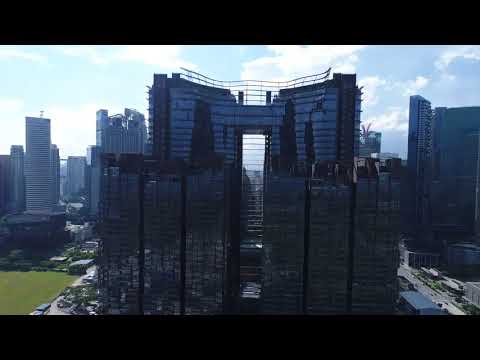 Last updated on 2018 April 09 10:04
Contact Me
Get in touch with me by filling in the form below, and I will get back to you as soon as possible.